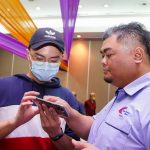 Peningkatan harga bahan api memberi kesan yang besar kepada aktiviti penangkapan ikan oleh nelayan di Malaysia. Kos bahan api untuk operasi penangkapan ikan secara komersial boleh mencecah sehingga 60% dari kos keseluruhan operasi vesel berkenaan, Oleh yang demikian suatu pendekatan baru penangkapan ikan secara tepat (precision fishing) perlu diketengahkan. Sistem Penentuan Lokasi Penangkapan Ikan (Fish Site Identification – FSI) telah mula dibangunkan pada tahun 2007 dan siap sepenuhnya pada akhir tahun 2010. Aplikasi sistem ini telah mula digunapakai oleh nelayan pukat jerut mulai awal tahun 2011. Dengan penggunaan system ini, pendapatan nelayan yang menggunakannya dapat ditingkatkan melalui pengurangan kos operasi sehingga 30% dan menjimatkan masa pencarian kumpulan ikan pelagik
Pada tahun 2020, aktiviti akan difokuskan kepada aplikasi sistem FSI untuk perikanan tuna. Selain itu program latihan kepada nelayan dan juga kakitangan jabatan turut dijalankan melalui program lonjakan aplikasi system di Pantai Timur, Pantai Barat, Sarawak dan Sabah. Program ini bertujuan sebagai promosi dan kesedaran berterusan bagi manfaat golongan sasar iaitu nelayan pukat jerut dan perikanan pelagik yang lain.
The increase in fuel prices has a significant impact on the fishing activities by fishers in Malaysia. The cost of fuel for commercial fishing operations can reach up to 60% of the total cost of operating the vessel. Therefore, there is a need to introduce a new approach on precision fishing. The Fishing Site Identification System (FSI) has been developed in January 2007 and was completed in late 2010. The purse seine fishers began to utilize the application of FSI since early 2011. By using the system, fishers can increase their income by reducing the operating costs up to 30% and minimize the search time for fish pelagic group.
In 2020, the activities on application of FSI system will be focused for tuna fishing. Simultaneously, a series of training program will be offered to the fishers and staff of Department of Fisheries through promotion on application of FSI system program in the East Coast and West Coast Peninsular of Malaysia, Sarawak and Sabah. The program aimed to promote and raise awareness on the benefit if FSI system to the target group, particularly purse seine fishers and other related pelagic fishers.
Ketua Projek :  Mohammad Faisal bin Md. Saleh (mohd_faisal[at]seafdec.org.my)